Improving intestinal condition is essential to prevent constipation, go on a diet, keep beautiful skin, be mentally well, and improving immune strength. Lactic acid bacteria helps you to do so effectively. Some kind of lactic acid bacteria is expected to cure the symptoms of constipation and hay fever and improve immune strength. This article shows top five on the sales ranking of lactic acid bacteria beverage available at Japanese supermarkets and drugstores!
Which Lactic Acid Bacteria Beverage is Selling Well?
Based on Urecon's sales ranking data, TOP 100, lactic acid bacteria beverage selling well at Japanese supermarkets and drugstores has been picked up and shown in the decreasing order of sales.
No. 1: New Yakult, 10 Bottles, 65ml×10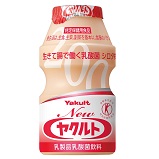 <Special Health Food> Yakult is a quite familiar lactic acid bacteria beverage that everyone must have a chance to drink. Lactobacillus casei strain shirota reaches to intestine alive and improves intestinal condition by increasing good bacteria and decreasing bad one. This bottle with 65 ml contains twenty billion of the bacteria.
No. 2: New Yakult, Calorie Half, 65ml×10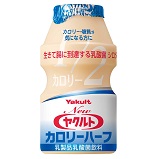 If you care about calorie and sweetness, why don't you try this Calorie Half. This is less sweet than New Yakult and the amount of carbohydrate and calorie is half. It has plain taste and no fat. This bottle with 65 ml contains twenty billion of Lactobacillus casei strain shirota.
No. 3: Nissin York, Pirukuru, 65ml×10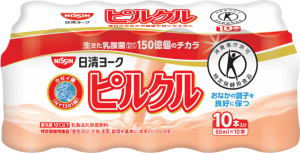 <Special Health Food> Lactobacillus casei (NY1301) reaches to intestine alive and improve intestinal condition. This bottle with 65 ml contains more than fifteen billion of Lactobacillus casei. This beverage's unique flavor and smooth feeling is realized by fermentation for a hundred hours.
No. 4: Morinaga Mommy, 900ml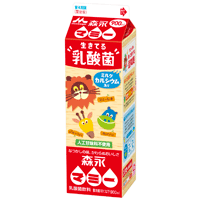 This lactic acid bacteria beverage has its unique sweet and sour taste. It contains milk calcium and vitamin D to improve digestion. The carton includes 900 ml. The web site of Morinaga Mild Industry Co., Ltd. introduces recipes for milkshake and jelly, which is good for snacks for kids.
No. 5: KAGOME, Plant Lactbacillus, Labre, Light, Ichinichi no Tetsubun, 80ml×3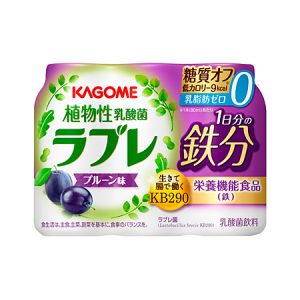 This bevarage is food with nutrient function claims. You can take plant lactbacillus,  Lactobacillus brevis subsp. coagulans, which works in intestine alive, and iron for a day. Iron is a very important nutrient for women. It is relatively easy to drink, even for those who do not like the prune taste so much. You can drink it every day since it has less carbohydrate and low calories.
Have You Found Lactic Acid Bacteria Beverage You Would Like to Try?
How do you like this article showing top five of lactic acid bacterial beverage sales ranking at Japanese supermarkets and drugstores? Intestinal condition totally depends on individuals. You might want to take one beverage for some two weeks in a row to see if it matches yourself or not.
Reference: Urecon Lactic Acid Bacteria Beverage Sales Ranking
See the latest sales ranking of lactic acid bacteria beverage up to 100 (September 1 to November 30, 2020).
>> See Top 100