In the season when you need to care about UV rays, many people would use makeup base with sunscreen effects.
This article introduces the sales ranking of sunscreen makeup base which can be bought at less than 1,000 yen.
If you are not sure which makeup base you should choose to avoid sunburn around your face, please check this out.
Which is Popular Sunscreen Makeup Base? Let's Look at the Sales Ranking.
Based upon Urecon's sales ranking data, top 100, makeup base products with sunscreen effects better than SPF30 have been picked up and are shown in descending order of sales.
No.1: INTEGRATE GRACY Essence Base BB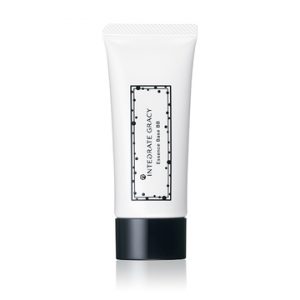 Picture from Shiseido
INTEGRATE GRACY Essence base BB is BB cream which is popular among women in their forties and fifties.
Since this product has functions of skin care, sunscreen, makeup base and foundation, you need to use only this for base makeup. Especially those who want to shorten their makeup time or think it troublesome to use various cosmetics will like it.
This also has natural effects on covering wrinkles, pores and dullness on the skin.
UV rays prevention effect: SPF33, PA++
Average price: 917 yen / 40g, No.1: light to natural skin color
No. 2: CEZANNE UV Ultra Fit Base N
Picture from CEZANNE Cosmetics
UV Ultra fit base N from CEZANNE which is famous as affordable cosmetic brand is a makeup base with three functions: moisturizing effect, color control and pore minimizing although it is so reasonable, about 600 yen.
It has high reputation that it is affordable but spreads well and makes the skin lighter.
It is preferable that it does not use ultraviolet light absorbent and is slight in burden on the skin.
It has three colors to match your needs including popular light beige which produces a natural shine.
UV rays prevention effect: SPF36, PA++
Average price: 639 yen / 30g, No.00 Light beige
No. 3: media UV Protect Base S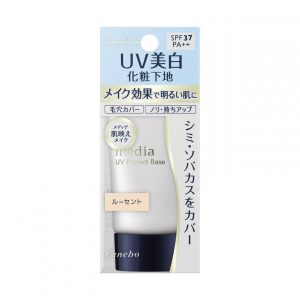 Picture from Kanebo Cosmetics
Media UV Protect Base S is a makeup base with three effects: UV protection, whitening and good makeup adhesion and makeup retaining effect.
It provides natural translucent look and make the skin lighter, so those who care about dullness or blotches on the skin will like it.
This product is especially popular among women in their forties, fifties and sixties.
UV rays prevention effect: SPF37・PA++
Average price: 542 yen / 30g
No. 4: Keana Pate Shokunin, Mineral CC Cream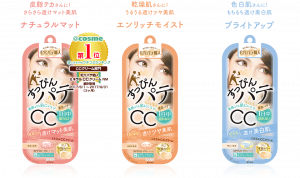 Picture from Tokiwa Pharmaceutical
Keana Pate Shokunin's Mineral CC Cream has reputation that it provides poreless skin just like the skin with no makeup.
This product has seven functions: pore minimizing, makeup base, foundation, concealer, skin beauty liquid, UV protection, skin stress effect, and prevent the skin from being damaged by UV rays and dryness.
It has the strongest level of UV protection effect in Japan, SPF50・PA++++, and is recommended for the season with strong UV rays and leisure scenes.
It has three types to match your skin types and preferable finishing, and the most popular is Enrich Moist.
UV rays prevention effect: SPF50, PA++++
Average price: 1,123 yen / 30g, Enrich Moist Type
No. 5: Biore UV Aqua Rich BB Essence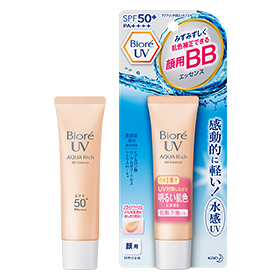 Picture from Kao
Aqua Rich BB Essence of Biore UV, the popular sunscreen lotion series, is BB essence for faces with color control and UV prevention.
While it has the highest UV prevention effect, SPF50・PA++++, it is water-based and light sense of use.
This provides sheer coverage and natural shine and good for daily use.
If you are concerned about smeared makeup such as sebum shininess and deformation of foundation, Makeup Base UV of Biore UV SPF50+ which was released in 2018 is also recommended.
Average price: 738 / 33g
Reference: Urecon Makeup Base Category Sales Ranking
See 100 Makeup Base Including Sunscreen Makeup Base

Have You Found a Good Sunscreen Makeup Base?
How did you like this article? The ranking of sunscreen makeup base selling well at Japanese drugstores has been shown.
Every item can be bought at Japanese drugstores, so we would like you to find a food one to fit your skin and life style.
©Urecon powered by TRUE DATA
※Data from December 1, 2017 to February 28, 2018
※Each data is as of the date the Japanese article was released. Some products might have finished selling.
※Urecon (https://urecon.jp/) is publishing market trend data for the latest three months.