Sanitary pads are necessary for women. It cannot be helped to feel blue during menstruation. In order to spend such periods comfortably, many women search for sanitary pads suitable for themselves considering how gentle they are to their skin, how easy to use they are, and so on. However, since there are too many kinds of products released from manufactures at market, from which it is sometimes difficult to choose. This article shows five best sanitary pads, which are selling well at Japanese supermarkets and drugstores.
Which Sanitary Napkins Are Selling Well?
Based upon Urecon's sales ranking data, top 100, sanitary pads representing high market share have been picked up and are shown below.
No. 1: Sofy Body Fit, With Wings, 22 Pieces ×2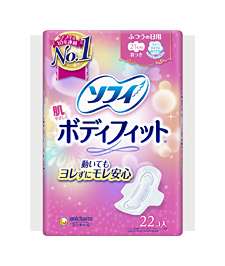 This product's Double Barrier Line prevents leakage in any directions. Thanks to its Center Fit Zone, the pad will fit in the gaps without getting deformed even when you move and you do not have to worry about leakage. Its Absorbent Top Sheet quickly draws in and absorbs menstrual fluid to prevent it from spreading.
No. 2: Sofy Body Fit, Without Wings, 30 pieces ×2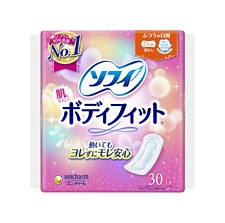 This is the same as the product in No. 1, but without wings. It has the best repeat rate among these five on this list, which maybe means it has the best balance of comfortableness, price and safety.
No. 3: Laurier, Hada Kirei Guard, Daytime Use with Wings, 22 pieces ×2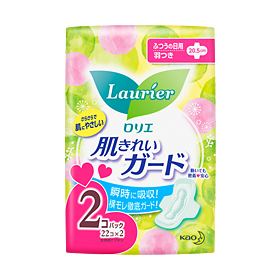 This product absorbs menstrual fluid instantly! It prevents leakage from its sides, so you feel safe outside.
Its Full Speed Absorbent Sheet draws in and absorbs the menstrual fluid before spreading and prevents leakage. The menstrual fluid does not remain on the surface and feels dry and is gentle to the skin. Soft Cushion fits the body line even when you move or sit and does not make gaps which causes worries.
No. 4: Sofy Hadaomoi, Ultra Thin Slim, Daytime Use for Extremely Heavy Menstrual Flow with Wings, 19 Pieces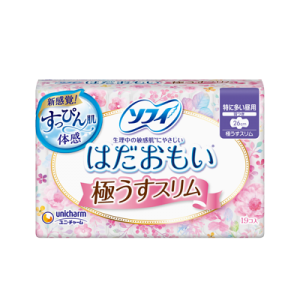 The softness of sheet is enhanced by 150% compared to it predecessors. This ultra thin slim sanitary pad reduces irritation to the skin and keeps it comfortable. You can feel light as if you did not use sanitary pads during your period.
No. 5: Laurier, Hada Kirei Guard, Daytime Use without Wings, 30 pieces ×2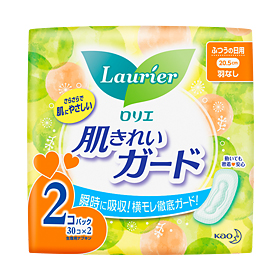 This is the same as the product on No. 3, but without wings.
Have You Found Good Sanitary Napkins for You?
How did you like this article which shows top five products on the sales ranking of sanitary pads sold in Japanese supermarkets and drugstores? It seems good to choose the right one depending on situations, referring to this ranking.
Reference: Urecon Sanitary Napkins Sales Ranking
See 100 Sanitary Napkins on Sales Ranking (from June 1, 2019 through August 31, 2019)
>> See Top 100