The heat in the summer time in Japan has been getting severe. The temperature difference between the coolness in the air-conditioned room and the heat outside puts a heavy tax on our body. It could also influence the autonomic nervous system, which might lead to summer heat fatigue. You might like to take a shower rather than take a bath; however, taking a bath in the summer time will prevent summer heat fatigue. Then this article will show selected seven bath agents to eliminate cold of body!
No. 1: Kneipp, Bath Salt, Super Mint Aroma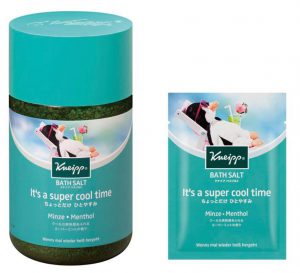 Do you want to cool down your sweaty body and refresh yourself? Then this is yours. Kneipp's super mint fragrance enhances concentration. It feels cool, but eliminates cool of body thoroughly.
No. 2: Kikiyu, Reisen Tansantou, Spa Relax and Spa Refresh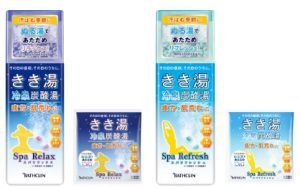 Kikiyu series whose naming, meaning spa tasting, is attractive, has released Spa Relax and Spa Refresh. Active components such as sodium bicarbonate and aluminum potassium sulfate improve its warm bath effect and blood circulation. This product eases the fatigue and rough skin, its moisturizer, tea extract provides more smooth skin, and moderate menthol eases the discomfort by heat and refreshes yourself!
No. 3: Tabi no Yado, Ryoka Ryofu Series Pack, 10 packs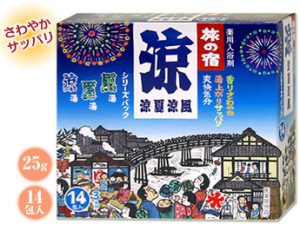 Tabi no Yado Series released its summer version! This pack includes ten bags of three kinds of bath agents: four bags of Ryo, meaning Cool, with citrus mint fragrance and bright blue color; three bags of Ka, meaning Summer, with herbal mint fragrance and pale blue-green color; three bags of Fu, meaning Wind, with fresh mint fragrance and very pale blue-green color. Of course, the fragrances make yourself refreshed after bath, and its feature is that it includes dried orange peel called "chimpi", which improves bad circulation, stiff shoulders and backache. It also includes dried root of a plant called "touki" which improves bad circulation, stiff shoulders and body pain.
No. 4: Bub, Cool Oriental Spa, 12 Tablets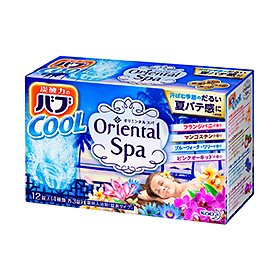 Oriental paradise surrounded by turquoise blue ocean. Wonderful sunshine and rain, big flowers and fruits. This is the image of this product with four different fragrances. It is good for heat fatigue in the sweaty summer. You feel refreshed both during bath time and after bath. Great deal of carbonic acid melt into not very hot water, and improves warm bath effect and blood circulation. Menthol is included to cool down and lead to fresh skin. It is usable for babies and you can enjoy bath time with your kids.
No. 5: Bath Roman, Super Cool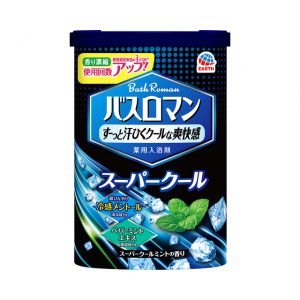 This is recommended to use on extremely hot days or for those who cannot be satisfied with other cooling bath agents. It includes menthol and aroma chemical to retain coolness, and you can feel relatively strong coolness and it prevents sweat from flowing. Even after bath on a muggy day, you feel refreshed and cool on the skin and warm in the body.
No. 6: Bub Cool, Suzuyaka Mint Aroma, 12 Tablets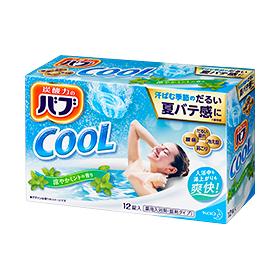 With not too strong menthol and mint fragrance, you feel refreshed after bath. This product does not include strong menthol, it is good for those who first use cool-type bath agents or take a bath with babies. Use this on hot summer day, and you can enjoy the coolness after bath.
No. 7: Bathclin, Marche Cool Bath Agent, Mint Aroma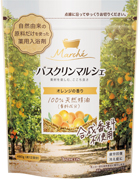 This product uses 100 percent natural mineral and 100 percent natural essential oil, so it is gentle to the skin and you can take a bath with your baby older than three-month old. If you do not like cool mint fragrance, you might like this because this has pure and fresh orange fragrance. It comes with a measuring spoon and is easy to see the quantity.
Have You Found Good Summer Bath Agent for You?
How do you like this article which shows seven selected bath agents for the summer. In addition to mint flavor, citrus flavors including lemon, grapefruit and lime is favored to enjoy bathing time. You might want to use different flavors depending on your mood. Eliminating cool of your body, please enjoy your time at home and in the bath.