Once hay fever season starts, many people suffer from an itchy face, reddish skin and skin disorder.
When you have enough time to go to a clinic even though you need to address those symptoms, commercial drugs available at drugstores will be reliable.
This article shows over-the-counter drugs recommended for the rough skin caused by hay fever.
Available at Drugstores! 3 Best Over-the-counter Drugs for Rough Skin Caused by Hay Fever
Based on Urecon's sales ranking data, non-prescription drugs for the rough skin, dryness and itching during hay fever season will be picked up!
1. Cure Rare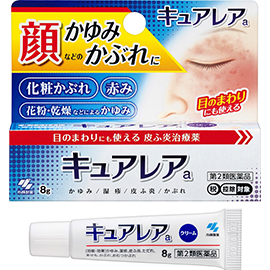 Picture from Kobayashi Pharmaceutical
Cure Rare is ointment which provides relief from itching, rash and reddish skin of the face caused by cosmetics, pollens and dryness.
This product contains non-steroidal ingredients which are usable for baby skin, so it is applicable to delicate areas around the eyes.
This is really popular and made it into Top 100 in the Urecon's sales ranking of external medicine for eczema / dermatitis.
Average price: 940 yen / 8g
2. IHADA Prescreed S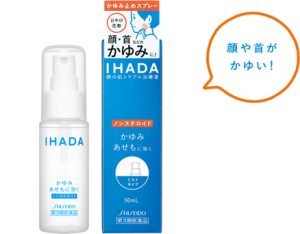 Picture from Shiseido
If you suffer from itching of areas not only around the eyes but also around the face line and neck, IHADA Prescreed S is recommended.
This is mist-type anti-itching agent and you can easily apply it to the wide areas such as the whole face, neck and back which is difficult to reach.
It has fresh texture given by well-balanced moisture and moisturizing ingredients and quickly agrees with the skin.
Average price: 1,539 yen / 50ml ※As of January 2018
3. Saiki Medical Skin Lotion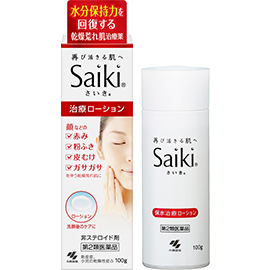 Picture from Kobayashi Pharmaceutical
It is said that skin barrier function is reduced when the season changes because the skin is easily stimulated by pollens and ultraviolet rays.
Saiki Medical Skin Lotion is recommended for those times.
Since a heparin-like substance to improve the skin barrier function is contained, this product leads dry and irritated skin with itching, redness, roughness, sharp irritation and pain to a better condition.
The thick lotion quickly agrees with the skin and can be used like a skin care product.
Average price: 903 yen / 30g
Reference: Urecon Sales Ranking of Dermatosis Therapeutic Agent
See the sales ranking of dermatosis therapeutic agent
>> 外用湿疹・皮膚炎用薬カテゴリのランキング100位まで見る
>> 皮膚軟化薬(乾燥性皮膚用薬)カテゴリのランキング(1-74位)まで見る



Have You Found a Good Commercial Drug for You?
How did you like this article? Commercial drugs for skin trouble during hay fever season have been introduced.
To prevent skin trouble by hay fever, it is important to improve the skin barrier function and try to avoid pollens.
You should provide care to moisturize the skin and make good use of useful items like spray for blocking pollens.
※Please be sure to read the attached document before taking medicine, and use correctly with proper dosage and usage.
©Urecon powered by TRUE DATA
※Data from November 1, 2017 to January 31, 2018
※Each data is as of the date the Japanese article was released. Some products might have finished selling.
※Urecon (https://urecon.jp/) is publishing market trend data for the latest three months.