Nasal drops and sprays are essential to relieve a nasal congestion.
However, you must be unsure of which one you should choose in front of a wide variety of products at drugstores.
Here are nasal drops and sprays especially effective for clearing a blocked nose among those selling well in drugstores!
5 Best Nasal Drops and Sprays Good for a Nasal Congestion!
Based on Urecon's ranking data up to 100th place, nasal drops and sprays selling well at drugstores have been picked up. These are effective for allergic symptoms of hay fever including a runny nose and a stuffy nose.
No. 1 Nazal Spray

Picture from Sato Pharmaceutical
Nazal Spray contains vasoconstrictor to clear a blocked nose, and antihistamine to suppress allergic symptoms and sterilizing component to relieve inflammation of the nose mucous membrane.
Vasoconstrictor has immediate effects, but you should use it only for a short time since long time use of it could worsen the condition. It is recommended to use this in an emergency treatment manner.
Average price: 708 yen per 30ml
No. 2 Alguard Bien Cool Spray a

Picture from Rohto Pharmaceutical
Alguard Bien Cool Spray a contains the same active ingredients as Nazal Spray, but it is recommended for those who prefer cool sense of usage because menthol and mint oil is added. It is designed for the liquid to stay long at the affected part, and you can feel the refreshed feeling for a long time.
Average price: 788 yen per 15ml
No. 3 AG Nose Allercut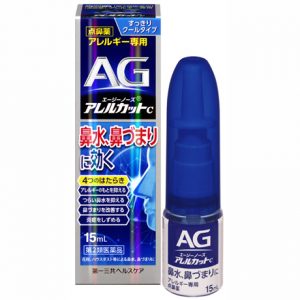 Picture from DAIICHI SANKYO HEALTHCARE
AG Nose Allercut series contains the greatest number of different active ingredients among nasal drops and sprays exclusively for allergies on the market. Its four ingredients, anti-allergic agent, antihistamine agent, vasoconstrictor and anti-inflammatory agent, alleviate symptoms caused by pollens and house dust. This drug has immediate effects for a runny nose, a blocked nose and sneezes.
This has three kinds so that you can choose one depending on your preferences; soft type, cool type and moist type which prevents liquid dripping. AG Allercut EX contains steroid, but no vasoconstrictor.
Average price: 1,215 yen / Cool type, 15ml
No. 4 Zaditen AL Bien Spray a

Picture from Novartis Pharmaceuticals
Zaditen AL Bien Spry a contains only anti-allergic agent. Its antihistamine and anti-inflammatory effects reduce allergy symptoms caused by pollens such as a runny nose and sneezes. Thanks to its sophisticated airless container, you can spray from any angles and see the remaining amount. Cool type with menthol is available.
Average price: 1,264 yen per 7ml
No. 5 Nazal αAR 0.1%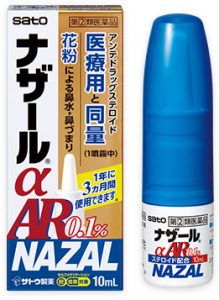 Picture from Sato Pharmaceutical
Nazal αAR 0.1% is a nasal drop for seasonal allergic rhinitis and contains the same amount of antedrug steroid which has both anti-allergic and anti-inflammatory effects as ethical drugs. Unlike nasal drops with vasoconstrictor, steroid nasal drops take some time before an effect is seen; however, their advantages are that they can be used continuously up to three months and have fewer side effects. A large effect to a runny nose and a blocked nose caused by pollen allergy can be expected.
This is usable at work or when going out since it does not contain any ingredients to make you drowsy.
Average price: 1,680 yen per 10ml
Reference: Urecon Medicine for Rhinitis Category Sales Ranking
See Latest Best 100 Medicine for Rhinitis Including Nasal Drops and Sprays.
>> 鼻炎用薬カテゴリのランキング100位まで見る


Have you found the right nasal drop or spray for you?
How did you like this article? We introduced recommended nasal drops and sprays for a runny nose and a blocked nose.
There are mainly two kinds of nasal drops and sprays on market; vasoconstrictor and steroid, so please find the right one for you depending on your symptoms and uses.
©Urecon powered by TRUE DATA
※The average prices are as of the date the Japanese article was released.
※Data: from October 1 to December 31, 2017.
※Urecon (https://urecon.jp/) is publishing market trend data for the latest three months.