During winter, we sometimes keep coughing after recovering from cold or have no voice after talking a lot, which could cause bronchitis. Nonprescription cough medicine could work to relieve a cough and get rid of phlegm. Here is a list of five best cough medicine based on the sales ranking.
Which Cough Medicine is Selling Well?
Based upon Urecon's sales ranking data, top 100, cough medicine representing high market share has been picked up and shown below.
No. 1: NEO CEDAR King Size, 20 Pieces
By smoking just like tobacco, this medicine works for relieving coughs and getting rid of phlegm. Although this is the most-selling, it includes small amount of nicotine and tar. It should not be recommended to those who do not smoke.
No. 2: Ryukakusan Direct Stick, Mint, 16 Packs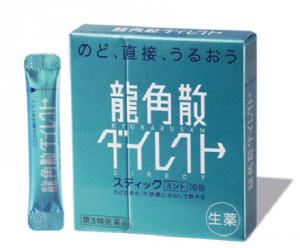 When it comes to cough medicine, it is Ryukakusan! You might remember taking the traditional Ryukakusan with spoon, bearing its bitterness and unique scent, but this Ryukakusan Direct Stick is granular. It melts in the mouth quickly and affects the throat. Its active component, saponin glycoside included in bellflower and Polygaya senega encourages phlegm to come out of the trachea, activate ciliary movement, gets rid of phlegm and relieve coughs and inflammation. If you feel something wrong with your throat, why not try this stick type medicine!
No. 3: Ryukakusan Direct Stick, Peach, 16 Packs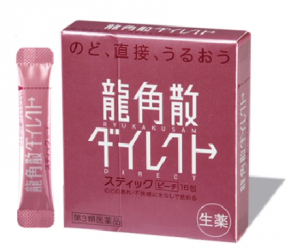 This is another flavor of Ryukakusan Direct Stick. It is popular among women.
No. 4: New BRON Solution Ace, 120ml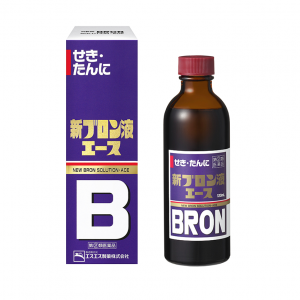 New BRON Ace includes menthol that is effective for coughs and phlegm and has fresh feeling. This is syrup, so easy to take even if you do not like capsules and powder. Dihydrocodeine phosphate affects cough center to relieve coughs and guaifenesin relaxes muscularis of bronchus to make breathing easy.
No. 5: New CONTAC Sekidome Double, Jizokusei, 12 Capsules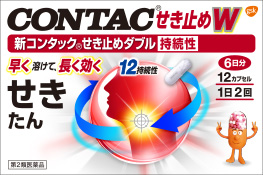 This medicine is designed to relieve coughs with phalgm. Nonnarcotic cough remedy, dextromethorphan hydrobromide hydrate relieves coughs and diprophylline relaxes bronchus to relieve coughs and gets rid of phalgm. This unique capsule melts easily and works quickly. You need to take just one capsule and its effect sustains for about twelve hours.
Have You Found Good Cough Medicine for You?
How did you like this article that shows five best-selling antitussive and expectorant available at Japanese drugstores? If you are not sure which one to choose, please try to find what is suitable for you based on this ranking data.
Reference: Urecon Antitussive and Expectorant Sales Ranking
See the latest sales ranking of antitussive and expectorant up to 100 (November 1, 2019 to January 31, 2020).
>> See Top 100