As it gets hotter, women have more chances to wear sandals and mules. Even if you look fashionable, it will be in vain if your heels have rough skin. So we will recommend caring your feet, especially heels. Here is the sales ranking of foot care products sold at Japanese drugstores.
Which is the Popular Foot Care Product? Let's see the Sales Ranking.
Based on Urecon's sales ranking data, we have picked up this year's 5 recommendations among foot care products that sold well at drug stores in the summer, 2016. Here is the recommendation ranking!
No.1 Baby Foot Easy Pack, 30-minute Type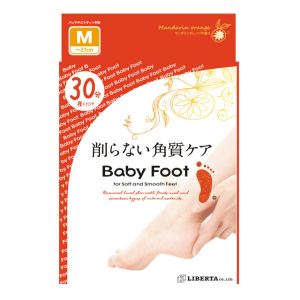 Picture from LIBERTA
In the summer when women wear clothes that show skin, this Baby Foot Easy Pack 30-minute Type is the most popular.
Only you need to do is to bathe your feet in the foot pack with gel lotion including fruit acid and wash off 30 minutes later. This convenience and high effectiveness attract people.
Two to seven days later, old keratin falls off and finally your feet will get really smooth just like babies'. It is said that the way of keratin's falling off is surprising.
Since this product takes less time compared to other similar products, it is recommended for those who do not have so much old keratin or who would like to care their feet quickly because they are busy working or taking care of children.
This product has a wide variety of sizes, Small to Large, for small feet to males.
No. 2 K-Foot Kakushitsu (Keratin) Care Pack
The second most popular is K-Foot Kakushitsu Care Pack.
This is also peeling pack to remove keratin on heels and sole of the feet, and is popular because it is reasonable, around 700 yen. It is good for trial.
You need to bathe your feet in the pack for 1 hour to 1.5 hours. Around four days later, the old keratin starts to fall off and make your foot skin smooth.
No. 3 Baby Foot Easy Pack 60-minute Type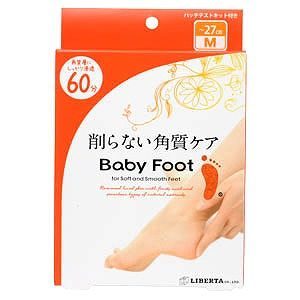 Picture from LIBERTA
This Baby Foot Easy Pack 60-minutes Type possesses great ability of removing old keratin and can remove stiff old keratin.
Since it takes about an hour to make gel penetrate into the stiff keratinous layer, the stiff and thick old keratin peels away easily.
This is good for those who have struggled for making their heels smooth or try this kind of peeling pack for the first time.
This has two sizes; S for up to 24cm and M for up to 27cm.
No. 4 Namera Kakato Stick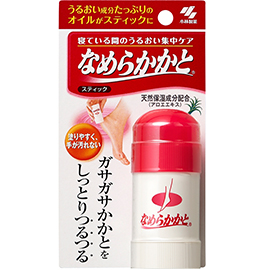 Picture from Kobayashi Pharmaceutical
One of the reasons for the rough skin of heels and sole of feet is dryness. This Namera Kakato Stick is the cream for moisturizing dry heels.
It contains a lot of natural moisturizing ingredients such as olive oil and squalene. If you apply this on your heels, they will be moisturized. It is said that applying this for consecutive several days made the heels smooth.
Since this is stick type, it is easy to handle and you do not have to get your hands dirty.
No. 5 Aisen Karuishi Brush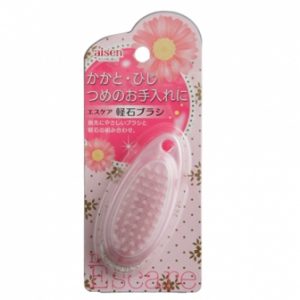 Picture from Aisen
Aisen Karuishi Brush is a convenient product which combines a pumice stone and a brush. The pumice stone is useful when you would like to diminish the rough skin as soon as possible by wiping the sole of foot to remove old keratin on the heels.
This is really affordable, around 300 yen, and is usable for caring not only heels but also toenail.
Reference: Leg and Foot Care Products Sales Ranking in Summer, 2016
See latest best 100 leg and foot care products.
>> 2016年のレッグ・フットケアランキング100位まで見る


Have You Found a Good Foot Care product for You?
How did you like this article? We have introduced the sales ranking of foot care product selling well at drugstores in Japan.
Since foot care products have several types from peeling pack, cream to file, we hope you find an item that matches your preference.
Let's be a beautiful woman with bare feet beautifully cared.
©Urecon powered by TRUE DATA
※Data in 2016 is based on Urecon's Leg and Foot Care Products Sales Ranking from May 1 to July 31, 2016.
※Each data is as of the date the Japanese article was released. Some products might have finished selling.
※Urecon (https://urecon.jp/) is publishing market trend data for the latest three months.