Antiperspirant deodorant sticks have been popular these days.
When you are about to buy some, you must not be sure which one you should pick up from various kinds of them.
Here is the list of popular products selling well at drugstores in Japan; the sales ranking of sticks and roll-on type respectively.
This must helpful if you would like to ask, "Which one is good?"
Sales Ranking of Antiperspirant Deodorant Sticks!
Antiperspirant deodorant sticks are popular because you do not have to take time to dry the skin unlike roll-on type products. These are good for those who do not like the stickiness since you can keep feeling dry after applying.
No.1 Deonatulle Soft Sone W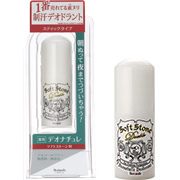 Picture from Cbic
The most popular product by far among many kinds of antiperspirant deodorant is Deonatulle Soft Stone W. Natural deodorant ingredient, alumstone has antibacterial effects and covers smell of sweat and armpit odor. Its significant effect is highly praised, and was enshrined in the Hall of Fame at @cosme Best Cosmetics Award 2009.
Average price: 812 yen
No.2 Ag DEO24 Deodorant Stick Na, Fragrance-Free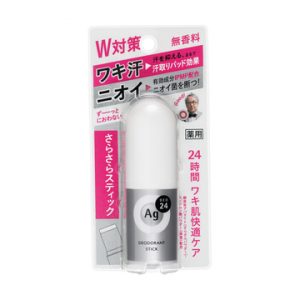 Picture from Shiseido
The second most popular is the stick type of Ag DEO24 famous as spray type. It highly adheres to the armpit and ensures comfortable daily life without concern for perspiration and body odor. It contains powder to prevent the skin from feeling sticky.
Average price: 1,076 yen / 20g
No. 3 Rexona Dry Shield Powder Stick, Fragrance-Free
Picture from Uniliver
Rexona's Dry Shield Powder Stick has dry and smooth feeling. It contains antiperspirant to block spirant as well as body odor. This product enjoys high repeat rate and reputations.
Average price: 945 yen / 20g
Sales Ranking of Roll-on Type Antiperspirant Deodorant
Liquid roll-on type antiperspirant deodorant is easy to handle, and convenient when you would like to apply it quickly in the busy morning or before playing sports.
No. 1 Ban Ase Block Roll-on Premium Label, Fragrance-Free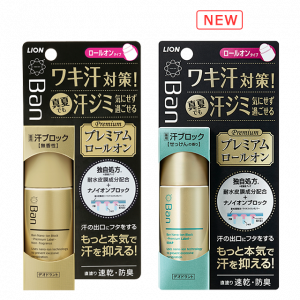 Picture from LION
Ban Ase Block Roll-on Premium Label is a highly functional product and popular among women who are greatly troubled by body odor as well as sweat in the armpit. Nano-ion antiperspirant component prevents sweat in the armpit from coming out from sweat glands. This product is expected to have higher effects of preventing sweat in the armpit than general antiperspirant deodorant, and seems to make it possible to spend hot summer days without worrying about sweat spot stain.
Average price: 713 yen / 40ml
If you prefer milder effects, affordable and standard Ban Ase Block Roll-on is recommended.
No. 2 8×4 Roll-on Sekken (Soap)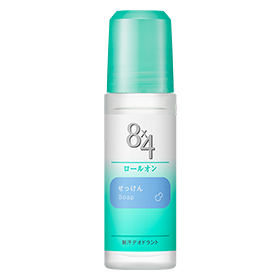 Picture from Kao
8×4 Roll-on Sekken is popular because of its fresh fragrance of soap. Nature-derived ingredients including deodorant green tea essence and bactericidal components derived from licorice prevents sweat and body odor. This is relatively reasonable among roll-on type antiperspirant deodorant, so is recommended for those who focus on prices or cost-effectiveness.
Average price: 461 yen / 45ml
No. 3 Mentholatum Rifurea Deodorant Liquid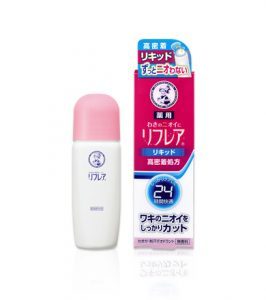 Picture from ROHTO Pharmaceutical
Rifurea Deodorant Liquid focuses on body ordor. Double bactericidal components provides powerful sterilization effects to fungus with unpleasant odor. It highly adheres to the skin and is hard to fall off even if there is a lot of sweat, and prevents body odor the whole day.
Average price: 628 yen / 30ml
Reference: Antiperspirant Deodorant Sales Ranking
See 100 Best Antiperspirant Deodorant including powder spray and sheets for sweat in addition to sticks and roll-on type.
>> 制汗防臭剤カテゴリのランキング100位まで見る


Have You Found Good Antiperspirant Deodorant?
How did you like this article? We have introduced popular antiperspirant deodorant selling well at drugstores in Japan.
Sticks and roll-on type have different feelings after use. We hope you find a good one to fit your preferences.
©Urecon powered by TRUE DATA
※Data from January 1 to March 31, 2017
※Each data is as of the date the Japanese article was released. Some products might have finished selling.
※Urecon (https://urecon.jp/) is publishing market trend data for the latest three months.