As the temperature and humidity rise, you feel more and more muggy.
If you cannot stand the heat and cannot stop sweating while commuting and visiting clients, these cool feeling goods will save your headaches. They will eliminate your uncomfortable feeling caused by heat and sweat during the summer.
Here are 5 best cool feeling goods among the times newly released in 2018.
No.1 Necchu Taisaku Shirt Cool Super Cool Jet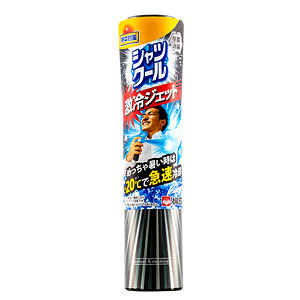 Picture from Kiribai Chemical
Popular Shirt Cool brand newly released this powerful item for business people who commute every day and often visit clients. If you spray on clothing, jet cold air of minus twenty degrees instantly cools down the steaming body and the bacteria-eliminating and deodorizing components suppress odor of clothing. This is quite compact and easy to carry, and will save heavy sweaters.
Reference price: 550 yen
No.2: ICE-NON Ashi Hinyari Deodorant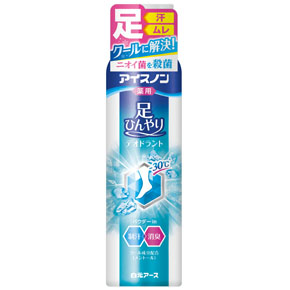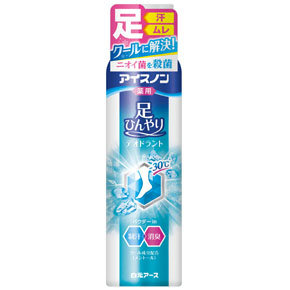 Picture from Hakugen Earth
ICE-NON Ashi Hinyari Deodorant is medicated cooling and deodorant spray for foot during the summer.
The coldness of minus thirty degrees and the dryness brought by powder work on foot's sweat, stuffiness and odor. This is fragrance-free and it is possible to spray upside down.
Especially this is recommended for women who often wear pumps at work for long hours even in the hot summer.
Open price
No. 3: Mandom Happy Deo Body Sheet EX Ice Down, Cool Mint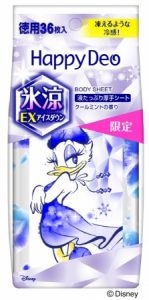 Picture from PR TIMES
Popular body sheet used for handling sweat and odor while going out has been renewed. By applying the cooling technology developed by Mandom after long-term research and development, this product has a large amount of cooling composition and extra-cool feeling of use.
You can wipe off sweat and odor and your steaming body in the summer will be cooled down and comfortable. Fragrance of Cool Mint is also great.
Limited number of products were released on May 28, 2018.
Reference price: 450 yen / 36 sheets
No. 4: Biore Hiya Sheet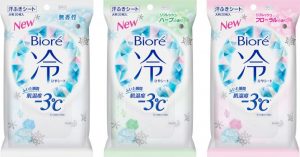 Picture from Kao
Newly released Biore Hiya Sheet can lower the skin's surface temperature by three degrees right after you wipe off the sweat.
Its unique sheet containing cooing down water and menthol rapidly cools down the skin and removes the sweat and stickiness at the same time.
Moreover, this tear-proof, large and thick sheet can cover the whole body.
Three kinds of fragrance are available: fragrance-free, Refresh Floral, Refresh Herb.
Average price: 398 yen / 20 sheets, Fragrance-free
No. 5: Necchu Taisaku, Hinyari Hiyake Dome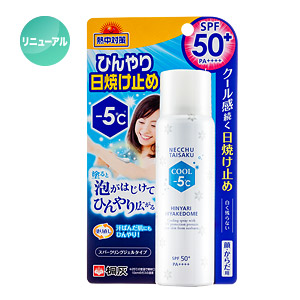 Picture from Kiribai Chemical
This sunscreen which is popular because of the cool feeling has been renewed with simple and cute container and design.
Foam spray of minus five degrees cools the steaming body down and the sunscreen of SPF50+ and PA++++ protect the skin from the sunshine, and this product is good for ultra violet ray measures while commuting and visiting clients.
Fragrance of fresh Summer Citrus.
Reference price: 780 yen / 50g
How Did You Like This Article?
Let's use cool feeing goods to survive the summer!
Please refer this article for measure against intense heat and heatstroke countermeasure.
©Urecon powered by TRUE DATA
※Average prices are as of the date the Japanese article was released.
※Data from January 1 to March 31, 2018
※Urecon (https://urecon.jp/) is publishing market trend data for the latest three months.