Hand cream to moisturize the dry skin is essential in the dry season. However, you might not be sure which one to get, since there are so many kinds. The sales ranking of moisture-rich hand cream available at Japanese drugstores is shown here. If you are looking for good moisture-rich hand cream, please check this out.


What is Popular Moisture-rich Hand Cream? Here is the Sales Ranking!
Based upon Urecon's sales ranking data, top 100, popular hand cream with great moisturizing capacity has been picked up and is shown in descending order of sales.
No. 1: Atrix Hand Cream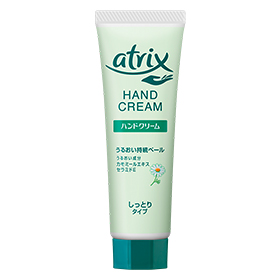 Picture from Kao
The most selling hand cream is Atrix Hand Cream. Although it is incredibly cheap, around 200 yen, it moisturizes the skin well and is not sticky, which is excellent cost-performance. Its reputation that you can use the cream without stint because of its low price has passed from mouth to mouth, and it has many repeat customers.
Average price: 195 yen / 50g
No. 2: Coen Rich, Medicated Whitening Hand Cream, Deep Moisture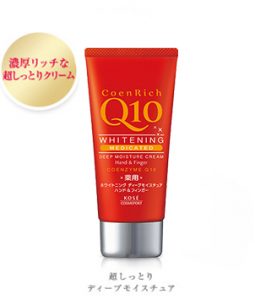 Picture from Kose Cosmeport
Among Coen Rich series which is popular because of its high cost-performance, this product has excellent moisturizing capacity.
The cream with rich texture keeps the skin moist for long hours, so you do not have to use it repeatedly.
Since it contains highly pure coenzyme Q10 and skin-whitening agent, it is recommended for those who care about not only dry skin but also wrinkles, spots and dullness on the hand.
Average price: 402 yen / 80g
No. 3: Avene Cold Cream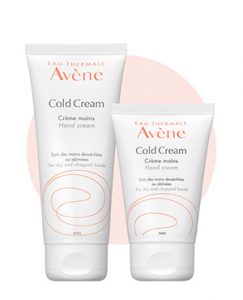 Picture from Pierre Fabre Japon
This is the popular hand cream and it was admitted to the Hall of Fame of @cosme Best Cosmetics Award. Its moisturizing capacity and non-sticky feeing in use is highly evaluated. It is gentle to the skin, so is great for those who care for rough skin.
Average price: 1,449 yen / 102g
No. 4: Neutrogena Norway Formula Intense Repair Hand Cream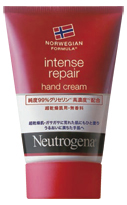 Picture from Johnson & Johnson
Neutrogena's hand cream contains a moisturizing ingredient of high density, 99% pure glycerin used at medical sites. It draws moisture in the air and leads to soft and moist skin. It is not sticky, so it is preferred by those with rough or super dry skin.
Average price: 569 yen / 75g
No. 5: Hand & Urea Series, Medicated Hand Cream, More Deep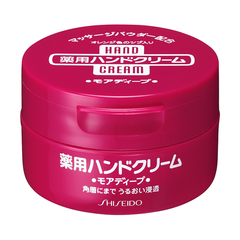 Picture from Shiseido
Shiseido's Medicated Hand Cream, More Deep has been popular for a long time, said it protects the skin from dryness. It contains moisturizing agents, urea and xylitol, and vitamin E to improve blood circulation, and is good for rough skin. It also contains massage powder and is recommended for hand massage before and after wet work or before going to sleep. Portable tube type is also available.
Average price: 502 yen / 100g
No. 6: Johnson's Body Care, Extra Care, Moisture-rich Hand Cream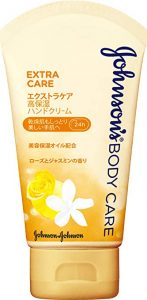 Picture from Amazon
Johnson Body Care Moisture-rich Hand Cream is excellent for wet work and keeps the moisture for all day. It contains Rich Emollient and moisturizing oil and makes the rough, dry skin moist and smooth. The cream with aroma, rose and jasmine is also popular.
Average price: 330 yen / 50g
No. 7: Curel, Hand Cream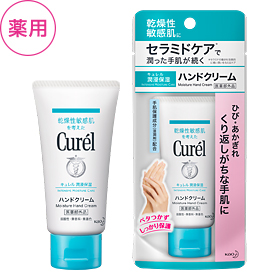 Picture from Kao
Curel Hand Cream which cares the skin's ceramide is not sticky and keeps the skin moist for long hours. It contains ingredients to moisturize and protect the skin and lessen inflammation, so is great for those who care about rough skin and dry and sensitive skin.

Average price: 930 yen / 50g
Reference: Urecon Hand Cream Sales Ranking
See 100 Hand Cream
>> ハンドクリームカテゴリのランキング100位まで見る



Have You Found Good Hand Cream?
How did you like this article? If you are not sure which hand cream to take, please find the right one for you based on this ranking.
©Urecon powered by TRUE DATA
※Data from June 1 to August 31, 2018
※Each data is as of the date the Japanese article was released. Some products might have finished selling.
※Urecon (https://urecon.jp/) is publishing market trend data for the latest three months.