Though suntanned children used to be said to look healthy, when we think about ozone layer depletion, we need to care about UV rays which could harm kids' skin these days. Sunscreen lotions which can be used for children safely will make you relieved. Five best sunscreen lotions for kids are shown here.
Which is Popular Sunscreen Lotion for Kids?
Based upon Urecon's sales ranking data, top 100, sunscreen lotions for kids selling well at Japanese supermarkets and drugstores have been picked up and are shown in descending order of market share.
No. 1: Mommy UV Aqua Milk, 50g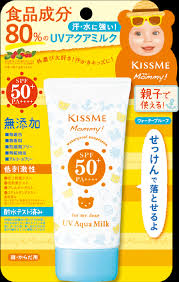 This product is good for kids playing outside for long time or in water. It is milky lotion and comfortable and does not look white on the skin. Eighty percent of its ingredients is from food. The lotions is weakly acid and removable with soap.
◆SPF50+/PA++++
No. 2: Mommy UV Mild Jell N, 100g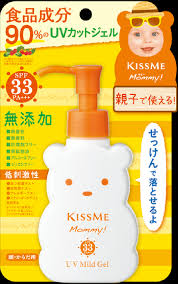 It feels like water and is not sticky and does not make the skin look white. It spreads smoothly, and can be removed with soap easily just like Mommy UV Care Milk on No. 1. This pump type container is easy to use and the cute bear on it will make your kids happy. This is good for daily use.
◆SPF33/PA+++
No. 3: Biore UV Mild Care Milk, 120ml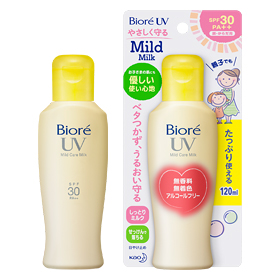 This product is gentle to the kids' skin. Since this is milky lotion, you can use as much as you want, for both parents and kids. You can use this easily when going out every day to protect the skin from UV rays. It is useable for delicate kids' skin. Its unique Smooth Veil Formula maintain moisture of the skin. This lotion is water-base, spreads easily and is not sticky.
Moisturizing ingredients such as sunflower extract and BG provides moisture with the skin which easily becomes dry affected by sunshine and air conditioning.
◆SPF30/PA++
No. 4: Biore UV Nobinobi Kids Milk, 90g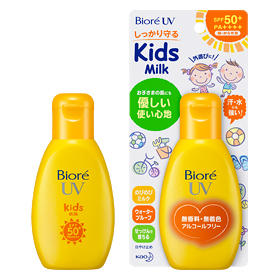 This sunscreen lotion with SPF50+ can be used for kids' delicate skin. Its Mocchiri Veil Formula resistant to sweat and water protect the skin from strong UV rays for long hours. Vaseline is used as a moisturizing ingredient and maintain the skin moist and healthy. This product is easy to apply even for active kids. It is slightly acidic, which is the same as the skin. It spreads easily and make the skin look white.
◆SPF50+/PA++++
No. 5: ANESSA Perfect UV Mild Milk 60ml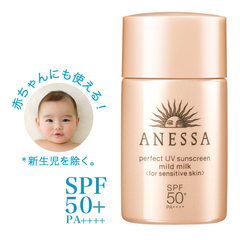 This mild milk lotion is low irritable and usable for babies and kids. It becomes stronger when it touches sweat and water, and has the strongest level of UV ray prevention effect. This is a sunscreen lotion for the face and body, which contains Aqua Booster. It is easily removable with soap. Additive-free, fragrance-free and color-free. Its resistance to sweat and water owing to its unique Super Water Proof Effect is proved through eighty-hour tests.
◆SPF50+/PA++++
Have You Found a Good Sunscreen Lotion for Kids?
How did you like this article? We introduced five best sunscreen lotions for kids available at Japanese drugstores. If you are not sure which one to take, please try to find a good one for your kids based on this sales ranking.
Reference: Urecon UV Care Products Sales Ranking
See Top 100 UV Care Products from February 1, 2019 to April 30, 2019.
>> 子供用日焼け止めを含むUVケアランキング100位まで見る