Mold removers on the market are of great help to get rid of molds on the ceiling, tile joint and rubber packing in bathrooms. However, you might not know which product is right for you because Japanese drugstores sell a wide variety of mold removers.
This article will show you the sales ranking of mold removers sold at drugstores.
Which is Popular? Mold Remover Sales Ranking
Based on urecon's ranking data (top 100), we have picked up mold removers selling well at drugstores. Please look at the sales ranking.
No. 1 Kabi Killer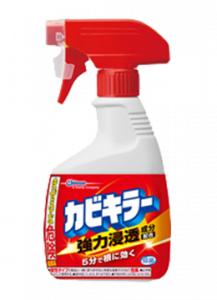 Picture from S.C. Johnson
The most selling Kabi Killer is synonymous with a chlorine-based mold removing agent. In addition to three principal components such as hypochlorous acid, it contains ingredients which permeate into mold roots, and it works speedily.
After spraying, you only need to wait for five minutes and flush with water. Without scrubbing, you can remove black molds on tile joint and rubber packing in the bathroom.
Average price: 253 yen per 400g with container
No. 2 Kyoryoku Kabi Haiter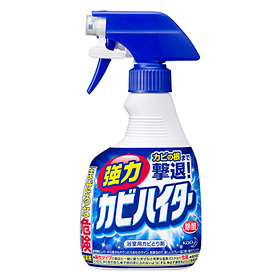 Picture from Kao
The second most popular product is Kyoryoku Kabi Haiter, which is also a chlorine-based mold removing agent. Compared to general mold removers, its form has higher viscosity and sticks fast and works well on molds on the vertical surfaces. This is recommended to remove molds on the bathroom walls, shower hose, rubber packing, which is hard to handle.
Average price: 237 yen per 400g with container
No. 3 LOOK Ofuro no Boukabi Kun'en-zai (Antimold Fogger)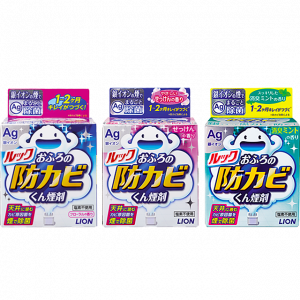 Picture from LION
LOOK Ofuro no Boukabi Kun'en-zai makes burdensome mold removing easy.
If you add some water and leave it for a while, fog will come out. A silver-ion fog spreads throughout the bathroom and kills black spores even on the ceiling.
Because it prevents molds from growing, you should use it after removing molds with other mold removers. It has three kinds of fragrances; floral, soap, and deodorizing mint.
Average price: 474 yen per 5g
No. 4 Raku Hapi Ofuro no Boukabi-zai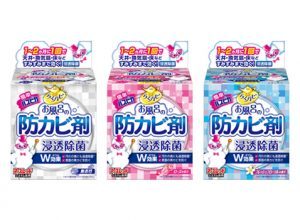 Picture from Earth Corporation
Another fogger-type mildew-proofing agent is Earth Corporation's Raku Hapi Ofuro no Boukabi-zai. This product's feature is that it takes half the time of the conventional one.
Since it takes only 60 minutes for a minimum, 30 minutes for usage and 30 minutes for ventilation, this is good for those who would like to clean up the bathroom quickly.
Earth's original Double Effects makes it possible to remove even mold fungi.
Fragrances are rose and fresh floral. Fragrance-free type is recommended for those who do not like aroma.
Average price: 402 yen per package, Fragrance-free type
No. 5 Kabi Killer Dendo (Electric) Spray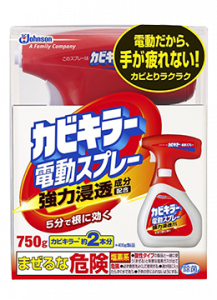 Picture from S.C. Johnson
Kabi Killer Dendo Spray is popular because you can remove molds easily without worrying about getting your hands dirty. By just pulling a lever, you can spray the liquid automatically and smoothly, complaints such as "spraying many times makes hands tired," and "it requires time to spray" will be resolved.
It contains almost the same amount of two bottles of ordinary Kabi Killer and great for removing molds over a wide range.
Average price: 648 yen per 750g with container
Reference: urecon Mildew-proofing Agent and Mold Removers Category Ranking
See mildew-proofing agent and mold removers category ranking (top 100) including products for bathrooms and washing machine tubs. See detailed ranking including refills and fragrances.
>> カビ取り剤カテゴリのランキング100位まで見る


Have You Found Good Mold Removers?
 How did you like the article? We have introduced sales ranking of mold removers selling well at drugstores in Japan.
Bathroom is a place where molds grow fast because of moisture. Let's keep your bathroom clean by making use of mold removers and mildew-proofing agent.
©Urecon powered by TRUE DATA
※Data: from August 1 to October 31, 2017.
※Each data is as of the date the Japanese article was released. Some products might have finished selling.
※Urecon (https://urecon.jp/) is publishing market trend data for the latest three months.